After passing my final exams I feel that I can relax a bit and have the time to read a book again. So instead of reading a book that I need to read purely for 'academic reasons', I thought I'd pick one I'd thoroughly enjoy: James Hurford's "The Origins of Grammar", which clocks in at a whopping 808 pages.
I'm still reading the first chapter (which you can read for free here) but I thought I'd share some of his analyses of "Animal Syntax."
Hurford's general conclusion is that despite what you sometimes read in the popular press,
"No non-human has any semantically compositional syntax, where the form of the syntactic combination determines how the meanings of the parts combine to make the meaning of the whole."
The crucial notion here is that of compositionality. Hurford argues that we can find animal calls and songs that are combinatorial, that is songs and calls in which elements are put together according to some kind of rule or pattern. But what we do not find, he argues, are the kinds of putting things together where the elements put together each have a specified meaning and the whole song, call or communicative assembly "means something which is a reflection of the meanings of the parts."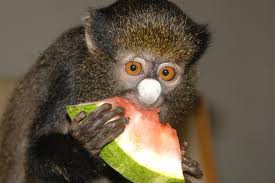 (Link)
To illustrate this, Hurford cites the call system of putty-nosed monkeys (Arnold and Zuberbühler 2006). These monkeys have only two different call signals in their repertoire, a 'pyow'-sound that 'means', roughly, 'LEOPARD'; and a 'hack' sound that 'means', roughly, 'EAGLE'.
Continue reading "James Hurford: Animals Do Not Have Syntax (Compositional Syntax, That Is)"