In my two previous posts (
here
and
here
) about imitation and social cognition I wrote about experiments which showed that
1)  young children tend to imitate both the necessary as well as the unnecessary actions when shown how to get at a reward, whereas wild chimpanzees only imitate the necessary actions.
And that
2) both 14-month old human infants as well as enculturated, human raised-chimpanzees tend to 'imitate rationally.' That is, they tend to be able to differentiate whether an agent chose a specific way of performing an action intentionally, or whether the agent was forced to performing the action in this specific manner by some constraint.
It can be argued that these experiments demonstrate that human infants and young children show an early sensitivity to the
communicative intentions
of others. That is, they seem to be able to infer that a demonstrator's specific (and 'odd' ) actions are somehow
relevant
, because she chose this specific manner freely (see also
these
two
extremely interesting posts by the philosopher Pierre Jacob, on which my own post is partly based)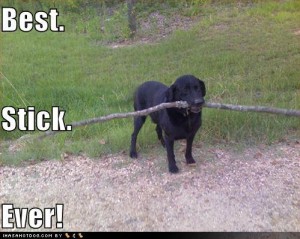 The fact that human-raised chimpanzees also show this sensitivity suggests that enculturation plays an important part in this process.
In a very interesting study, Range et al. (2007) used an experimental setup similar to that of Gergely et al. (2002) (which i described in my second post,
here
) to test whether other 'enculturated' and domesticated animals show the same kind of sensitivity: dogs.