Just before Christmas I found myself in the pub speaking to Sean about his work on bilingualism, major transitions and the contrast between language change and the cultural evolution of language. Now, other than revealing that our social time is spent discussing our university work, the conversation brought up a distinction not often made: whilst language change is part of language evolution, the latter is also what we consider to be a major transition. As you evolutionary biologists will know, this concept is perhaps best examined and almost certainly popularised in Maynard Smith & Szathmáry's (1995) The Major Transitions in Evolution. Here, the authors are not promoting the fallacy of guided evolution, where the inevitable consequence is increased and universal complexity. Their thesis is more subtle: that some lineages become more complex over time, with this increase being attributable to the way in which genetic information is transmitted between generations. In particular, they note eight transitions in the evolution of life: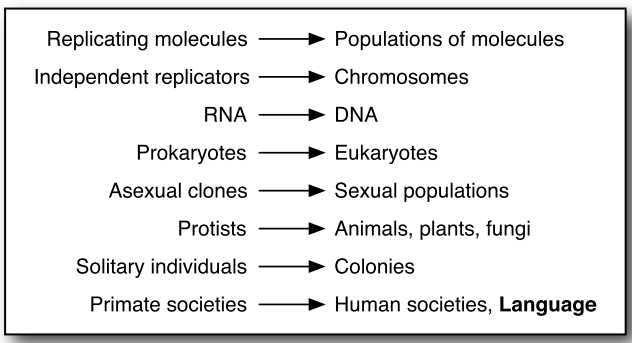 What's notable about these transitions, and why they aren't necessarily an arbitrary list, is that all of them share some broad commonalities, namely:
For Maynard-Smith & Szathmáry, language is viewed as a phenotypic replicator (for another example, see prions), but what makes it qualitatively different is the ability to support unlimited heredity: "A crucial distinction is between systems of 'limited heredity', in which only a few distinct states can be transmitted, and systems of 'unlimited heredity', capable of transmitting an indefinitely large number of messages" (pg. 13). Such is the position of Professor Simon Kirby in a forthcoming book chapter on the Evolution of Linguistic Replicators. Specifically, he raises the following question: what, if anything, does placing language among the major evolutionary transitions tell us about the evolution of language?
Language as a major transition
One solution is to conceive of language as being an adaptation for communication. Pinker & Bloom (1990) offer us the most popular example here, where communication is a process of directly mapping meaning onto external signals during both production and reception through two information-processing devices. I'm not convinced such accounts capture the semantic and pragmatic realities of communication. In fact, if we were optimally designed for efficient information transfer then language would probably be a very different beast indeed. From an information-theoretic perspective it is far more efficient to make use of multiple centre-embedded clauses to express propositions with multiple dependencies. Try parsing Scott-Phillips' (2010) example of The man the boy the woman saw heard left. Pinker & Bloom's response to such challenges is that constraints on natural selection will lead to good, as opposed to perfect designs. And whilst this is certainly true, a more parsimonious explanation may simply be that information transfer is just one facet of our broader pragmatic competence — and it is here where we should look for evidence of design.
With this in mind, Kirby proposes an alternative way of viewing the relationship between language and the major transitions:
If you consider an utterance, what information does that utterance convey? Most obviously, it conveys semantic information, and ultimately this is the information that MS&S are talking about in their discussion of unlimited cultural heredity. In other words, utterances carry content. But there is another kind of information that can be conveyed by any linguistic production, and that is information about the linguistic system itself. Along with content comes form. When I produce the sentence "these berries are good" I may be propagating cultural information about the edibility of items in the environment via the content of the sentence. At the same time I may also be propagating information about the construction of sentences in my language: its phonology, its lexical entries, its syntactic structure and so on (pg. 2).
Following on from this perspective, language is not only a mechanism for cultural replication, it is itself a culturally transmitted system. For Kirby, the process of language acquisition adopts a reverse engineering solution: where a child infers the workings of language through exposure to its linguistic environment (mostly adults producing utterances). Linguistic transmission, then, involves numerous repeated instances of reverse engineering. Termed iterated learning (see here and here), this process of phenotypic replication through repeated cycles of  production and perception/learning "may drive both evolutionary transitions of language from one qualitatively different state to the next and at the same time the normal process of ongoing change within each of those evolutionary stages" (pg. 5).
So, even though language is itself a major transition, an extension on this idea is to also consider major transitions within the cultural evolution of language. Like in Maynard-Smith & Szathmáry's transitions, these linguistic transitions are characterised by new divisions of labour and a loss of independent replication, with Kirby citing three salient examples: the ability for combinatorial phonotactics, the emergence of compositionality and the split into a contentive-functional lexicon. The first of these refers to the movement away from vocalisations with arbitrary trajectories through the acoustic/articulatory space toward combinatorial phonotactics: "the systematic reuse of speech sounds in the building of complex vocalizations [and the] formation of cultural rules and patterns of sound combination" (Oudeyer, 2005). Pairing these complex vocalisations with structured meanings then follows through into the second transition: where we go from holophrastic phrases (a string of phonemes in a sentence corresponds to the whole meaning) to compositional utterances (the meaning is inferred by the meaning of sub-parts of that string and the way they are put together). It is from these two transitions we have the basics needed for the evolution of "major syntactic categories, word order universals and recursion" (Kirby, in press, pg. 9).
Each of these two topics deserve a post in themselves, and it'll probably be something I come back to in the future, but for now I want to focus on the last of these proposed transitions: how language went from a monolithic to a contentive-functional divide in its lexicon.
Contentive-Functional Split and Grammaticalisation
So far, the two major transitions take us to a system where "each word maps onto part of the content of an utterance and combines with other words to compose a whole message" (pg. 12). This pretty much describes contentive elements such as nouns, verbs, adjectives etc. These tend to form open-classes in a language's lexicon, which includes linguistic variants appearing in a wide variety of syntactic environments, being morphologically free and "syntactically and semantically coercible" (Cann, 2001, pg. 15). In natural language, however, there are also functional items to consider. These take shape in the form of determiners, complementisers, prepositions, markers of case, tense, number etc, and tend to form the closed-classes. Even the way they are processed in the brain shows differences: "neuronal assemblies corresponding to function words are restricted to the perisylvian language cortex, while those corresponding to content expressions include neurons of the entire cortex" (Cann, 2001, pg. 14). It should be noted that there is considerable debate over these issues. In particular, only a close correlation exists between open-class/closed-class and contentive/functional words. The terms are not synonymous, as evident in auxiliary verbs forming a closed subclass of verbs, whilst functional expressions, such as the adverbs here and there, are often considered to be open-class (ibid).

These issues aside, and the central point being made is one where there's an observable difference between contentive and functional lexical forms in their distribution. This is one example of the division of labour in language: "Prior to the transition, the lexicon contained contentive elements only distinguished by broadly semantically defined syntactic categories. Afterwards, the lexicon specialises into an open class of elements carrying content, and a closed class of those with a grammatical function" (Kirby, in press, pg. 12). As Kirby notes, there is not much in the computational modelling literature on the contentive-functional divide, but one area that might shed some light on the situation is grammaticalisation: "how lexical items and constructions come in certain linguistic contexts to serve grammatical functions or how grammatical items develop new grammatical functions" (Hopper & Traugott, 2003, pg. 1).
A largely unidirectional process, grammaticalisation is a well-developed concept within linguistic typology and language change, and (mostly) involves simultaneous changes across phonological, morphosyntactic, and functional levels. There is also a distinction between syntagmatic and paradigmatic processes (Croft, 2010b). Various explanatory models proposed offer different conceptual stages through which grammaticalisation takes place. In the future, I'll hopefully have a contributor who can expand upon, and provide a better explanation of, the work that's taking place in this field. For now, I'm going to stick with one general model, the Lüdtke-Keller theory, and its three phases of grammticalisation: periphrasis, fusion and erosion.
An often used (and often bemoaned) example to demonstrate the Lüdtke-Keller Cycle is the periphrastic future be going to. At the periphrastic stage, a speaker uses a more elaborate expression to communicate a situation — either to avoid misunderstanding or to be expressive. Using our example, this involved a combination of the motion verb (go) and the purpose clause (to + infinitive) to express a future function: "The construction be going to probably spread from the closely related meaning of a motion event undertaken with an intended future outcome (the purpose clause)" (Croft, 2010b, 87). At the fusion stage, this periphrastic construction becomes a conventional or idiomatic linguistic routine: e.g. the use of the specific verb go and the present progressive form become fixed. Lastly, erosion occurs: both phonological and morphosyntactic elements are reduced, leading to the loss of syntactic independence and phonological affixation; demonstrated in the contracted form of be plus the reduced gonna [gʌnə] (see Croft, 2010a; 2010b).
It's clear grammaticalisation is a process taking place in language change. As a result, Kirby puts forward the following claim: the phenotypic replication of language, through iterated learning, often leads to the emergence of new replicators with a specifically syntactic function. Extrapolating this to the cultural evolution of language is territory to be explored, with future work firmly focused on the following: "What remains an open question at this stage is if we can demonstrate that the same process lead to the emergence of the very first functional elements in the longer term emergence of language. In other words, did the process of grammaticalisation lead to the original split in the lexicon in the first place?" (Kirby, pg. 13).
References
Simon Kirby (2011). The Evolution of Linguistic Replicators The Language Phenomenon
Croft, W. (2010). The origins of grammaticalization in the verbalization of experience Linguistics, 48 (1), 1-48 DOI: 10.1515/LING.2010.001
Ronnie Cann (2001). Functional vs. lexical: a cognitive dichotomy International Conference on Syntactic Categories DOI: 10.1016/S0092-4563(00)80019-7