Stephen Fry has embarked on a series of documentaries about language, beginning with the evolution of language which he calls 'the final frontier' of human understanding.  The typical documentary hype is all here:  Stephen Pinker sits in a gigantic fish tank with bits of taxidermied brain lying around like sandwiches; Michael Tomasello appears to live in a tropical primate enclose; Fry conducts his studies from a medieval study complete with quills, a CGI tree of languages and a talking parrot.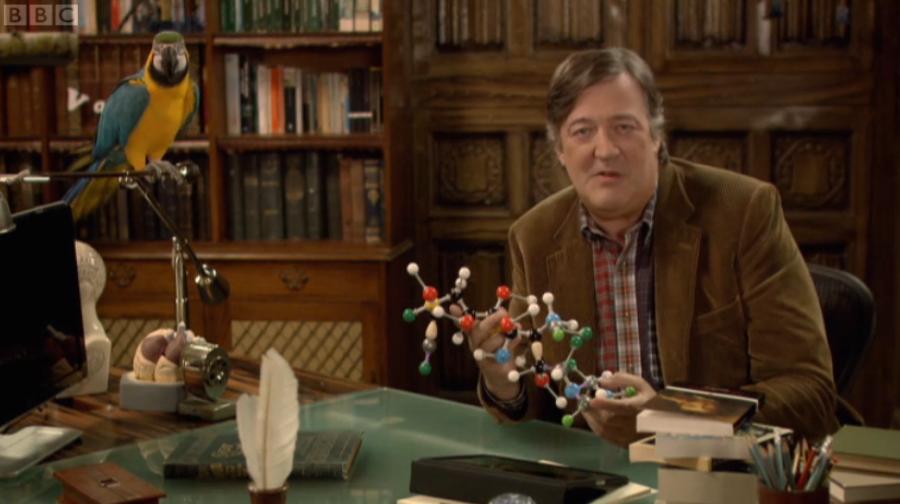 Despite this, it was actually a coherent and comprehensive review of topics in the field: Language versus communication in animals, phisological constraints of language, creativity and the desire to share information, the pragmatic origins of language, FoxP2 and the poverty of the stimulus. Bilingualism is even added to this cannon of interesting ways to approach the origins of language, somewhat tempered by Fry's question "wouldn't it be better if everybody spoke Esperanto?".
Mercifully, Fry seems to be actually interested rather than trying to build up the conspiracy plot format endemic in other science documentaries.  There are some odd diversions to a Klingon version of Hamlet, a trip to a German Christmas market and a slightly awkward re-enactment of a feral child case, but all in all the message is not objectionable: There is a graded difference between non-human and human communication, it's partly genetic and partly cultural and languages continually change under pressures to be learned and to express new ideas.  There are also welcome additions of the original Wug test and, of course, Fry & Laurie's seminal sketch about language.
Overall, I'd say it was the second best documentary the BBC have made about the origins of language.
Here's a clip:
Also a clip of Fry talking about the series: