This coming week I'll be at the Causality in the Language Sciences conference.  One of the topics of discussion will be how to integrate theories of causality into linguistic work.  Bayesian Causal Graphs are a core approach to causality, and seem like a useful framework for thinking about linguistic problems.  However, it's not entirely clear whether all questions in linguistics can be represented using causal graphs.  In this post, I'll discuss some possible uses of Bayesian Causal Graphs, and test the fit of some actual data to some causal structures.  (and please forgive my basic understanding of causality theory!)
Causal graphs are composed of states connected by edges.  A change or activation of a state causes a change in another.  States and causes can be categorical and absolute, or statistical and even complex in their relations.  Causal graphs are often introduced with the following kind of structure, taken from Pearl's seminal book on Causality.  The season causes it to rain (in winter) and causes the sprinkler to come on (in summer).  Both the sprinkler being on and rain independently cause the grass to be wet.  If the grass is wet, the grass becomes slippery: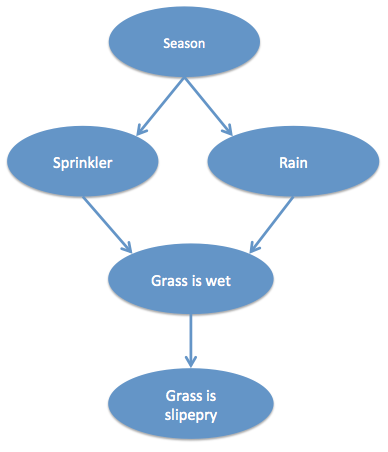 This example is easy to understand because each state is binary and (in this simple world) each causal effect is immediate and direct.  However, finding a similar example for linguistics is tricky.  Linguists may simply not agree on what the nodes are or what the edges represent.