Do you have a better memory than a chimp?  Tetsuro Matsuzawa demonstrated the amazing working memory abilities of Chimpanzees, but maybe humans can be just as good, with enough practice.  Justin Quillinan and I present the Quick-Hold Improvement Challenge (or QHImp Qhallenge).  Play our game and find out if you can beat a chimpanzee.
Play the game here.
You can see the results update live here.  Results so far are tantalizing: Replicated Typo's very own James Winters has already reached the Ayumu benqhmark (9 numbers viewed for only 209 milliseconds)!
Background
Tetsuro Matsuzawa presented his work on chimpanzees in a plenary talk at Evolang.  Matsuzawa covered several very interesting experiments and findings, including an experiment into the working memory of chimpanzees.  Ayumu is a chimpanzee who was trained to recognise Arabic numerals on a touch-screen and press them in sequence.  The most impressive aspect was that Ayumu could complete the task even when the numbers were only displayed for 210 milliseconds before being masked (the 'eidetic memory task' or 'limited-hold' memory task, Inoue & Matsuzawa, 2007):
You can see more videos of this at the Friends and Ai website.
Humans can complete the task at 650 and 430 milliseconds, but perform well below Ayumu at 210 milliseconds.   Matsuzawa suggested that our semantic links with the numerals may be an extra burden on our working memories.  Ayumu's mother, Ai, who was language-trained could not do the task: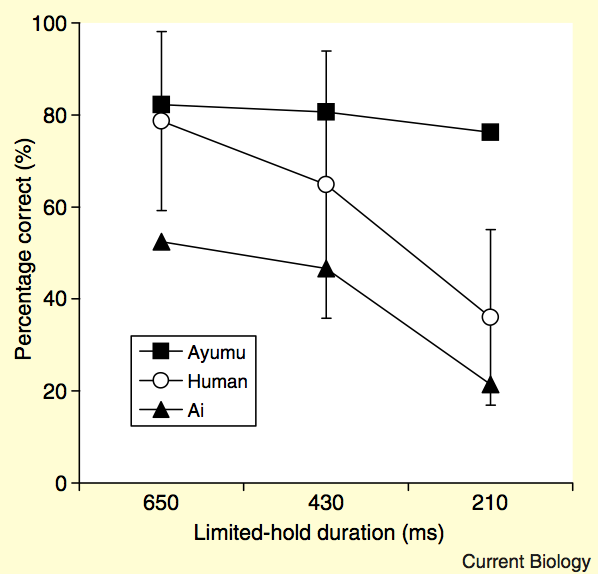 Matsuzawa speculated that this kind of visual ability is adaptive for chimpanzees, who regularly fight with other groups and need to keep track of where many attackers are at once, while ranking them by threat level.
Alan Silberberg and David Kearns wondered whether the difference between humans and chimps came down to the amount of training, so they trained themselves in an attempt to reach the performance of Ayumu (Silberberg & Kearns, 2009).  They played the game for 10 minutes up to ten times a day (perhaps generativist linguists do the same for training themselves to do grammaticality judgments?).  After 2,500 trials, they did reach Ayumu's performance level, but only for 5 numbers (as in the original Inoue & Matsuzawa paper).  Ayumu can do 9 numbers [EDIT: The Inoue & Matsuzawa paper only goes up to 5 numerals], seemingly effortlessly.
However, after visiting a video game arcade in Osaka, me and Justin Quillinan wondered if game-playing teenagers might be better at this task:
So on the plane back from the conference we built our own version of the game.  You can see how difficult the task is for yourself, or train yourself to beat Ayumu!  Why not pass it on to your nerdy teenage cousins?
Go play the game here.
You can see the results update live here.
We'll be analysing the results as they come in, and there's a leader board which displays the fastest players.

Game Instructions:
Press Go! to start the round.  Numbers will appear on the screen. After a brief pause, they will be replaced by blank buttons. Press the buttons in the correct order. The game will get harder as you go!
The game has three modes:
Arcade mode:  Stars easy and decreases the latency while increasing the number of numbers to remember
Challenge mode:  Starts with 9 numbers and decreases the latency.
Chimp mode:  See what Ayumu is capable of:  9 numbers with 210 milliseconds latency.[EDIT: Ayumu is only described as doing 5 numerals]
The game stores some information for the analysis on the server: The name you type in, a one-way encrypted version of your IP address, the type of device you're using and your score.  We can't guarantee that this information is secure, but it should be anonymous.
References
Silberberg, A., & Kearns, D. (2008). Memory for the order of briefly presented numerals in humans as a function of practice Animal Cognition, 12 (2), 405-407 DOI: 10.1007/s10071-008-0206-8
Inoue, S., & Matsuzawa, T. (2007). Working memory of numerals in chimpanzees Current Biology, 17 (23) DOI: 10.1016/j.cub.2007.10.027