Today I published a short commentary on a recent paper which found correlations between rice growing and collectivism (Talhelm et al., 2014).  We've written about collectivism before (and here).  However, while this may sound like a spurious correlation, there's more to it:  The theory is that communities which engage in more intensive practices, and therefore require help and collaboration of others, are biased towards a collectivist attitude (as opposed to an individualist attitude).  Rice growing is more intensive than wheat growing, and requires more extensive irrigation, both of which may require collaboration from neighbours.
The really interesting thing about Talhelm et al.'s study is that they look at data within a single country – China.  They also find correlations at the county level: Neighbouring counties which differ in the proportion of rice grown (the so-called rice-wheat border) differ in a range of sociological measures of individualism.
Still, the study did not directly control for possible shared history – either of farming practices or social attitudes.  I was recently a reviewer for another commentary on the paper, and decided to look a little deeper.
As a test of spuriousness, I did a very quick comparison of the proportion of rice planted in US states.   Higher rice vs wheat is correlated with higher collectivism (estimate = 7.9 collectivism points for a change in ratio of 1, p = 0.05).   However, this is due to the same cause: the US has such a different culture, ecology, economy and time-depth.  Indeed, since only 6 states produce any rice at all, the correlation is likely due to these outliers.
Since the original paper was published, new data and trees have become available which would make the relevant controls for shared history possible.  In particular, a recent paper by Johann-Mattis List and colleagues builds a tree of historical relations between dialects spoken in China based on lexical data (see here, pdf here, data here).  The trees are built using List's LingPy program – an open source Python program which does world list processing, automatic cognate detection, borrowing detection and tree building.  It's quite an exciting tool and I'll be using it in the future.
For my commentary, however, I just wanted to test whether linguistic differences also predict differences in farming practices.  If so, this could indicate that farming practices (and possibly collectivism) is inherited or borrowed, casting doubt on the robustness of the original findings.
The data for the original study is available online.  I compared differences in the proportion of rice grown in each province with the difference in the lexicon based on List's data (using a Mantel test).  There was a correlation between the two, suggesting that a phylogenetic study would be informative.  I did the same test using ASJP data and found the same result.
Here is a phylogenetic tree projected onto a Map of China (Figure 1 from the commentary, but not on the website yet, made using the R function phylo.to.map from phytools).  The tree splits varieties in the north (low rice production) from the south (high rice production).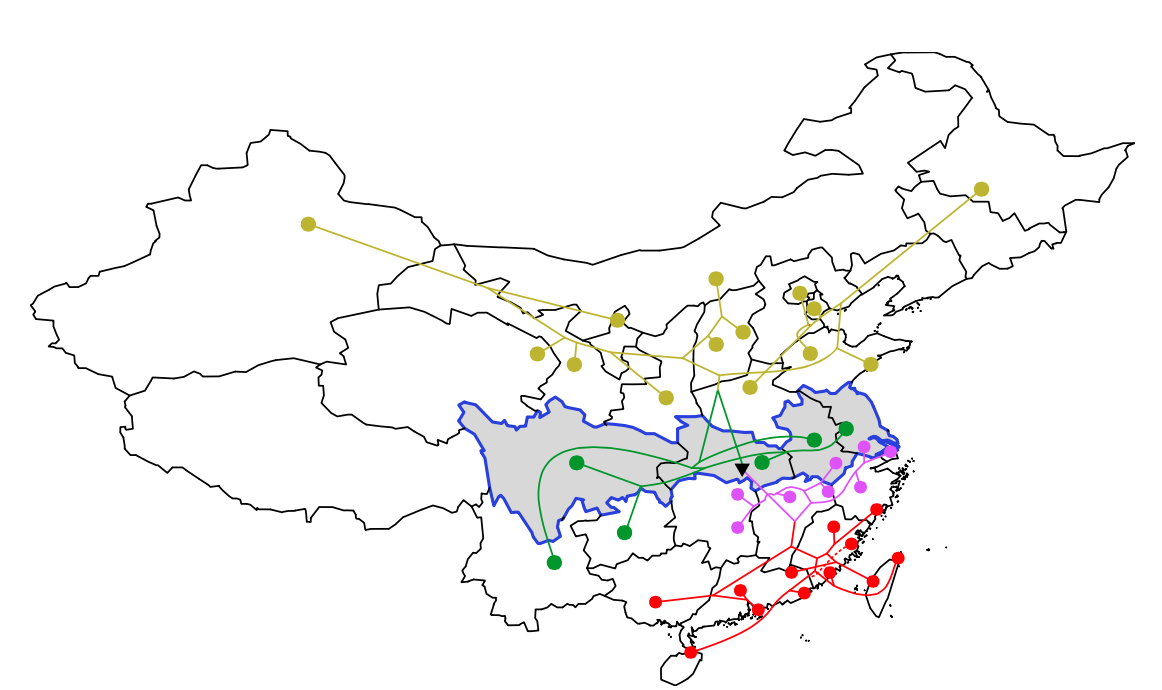 I end the commentary by suggesting that researchers considering cultural traits in many fields might consider collecting linguistic data, alongside anthropological, psychological and socioeconomic data, in order to run controls for shared history.