Here are the results from yesterday's Evolve a Band Name experiment.  The top three names were 'Chessclub', 'Cloaca' and 'Protons versus Neutrons'! I have to say, there is a lot of creativity evident in the data!  Also, a technical oversight on my part leads to a lesson about cultural evolution…
If you haven't taken part yet, go here!
Method
Participants were presented with 10 band names for 20 seconds. They had to memorise them and then they were asked to reproduce each one. They entered names one at a time and were prevented from entering names that they had already entered. After entering 10 names, the participants were given a score (based on Levenshtein distance). Their names were recorded and passed on to the next participant as their input.  At the time of writing, 144 trials had been recorded.
The analysis was complicated by a technical oversight. I assumed that only one person would play this at a time. I was running many chains (14) in parallel, and each person is assigned to a chain when they log in, but the chain list was not updated until they finished the experiment. The result is that a single chain could split into many chains, and I had no way of automatically recovering the history of transmission. Lesson learned.  If you'd like to see the raw data, look here (each line is a generation, each name separated by an underscore, first 7 lines of each file is the initial random stimuli).
Results
Here's an analysis done by hand (click to expand).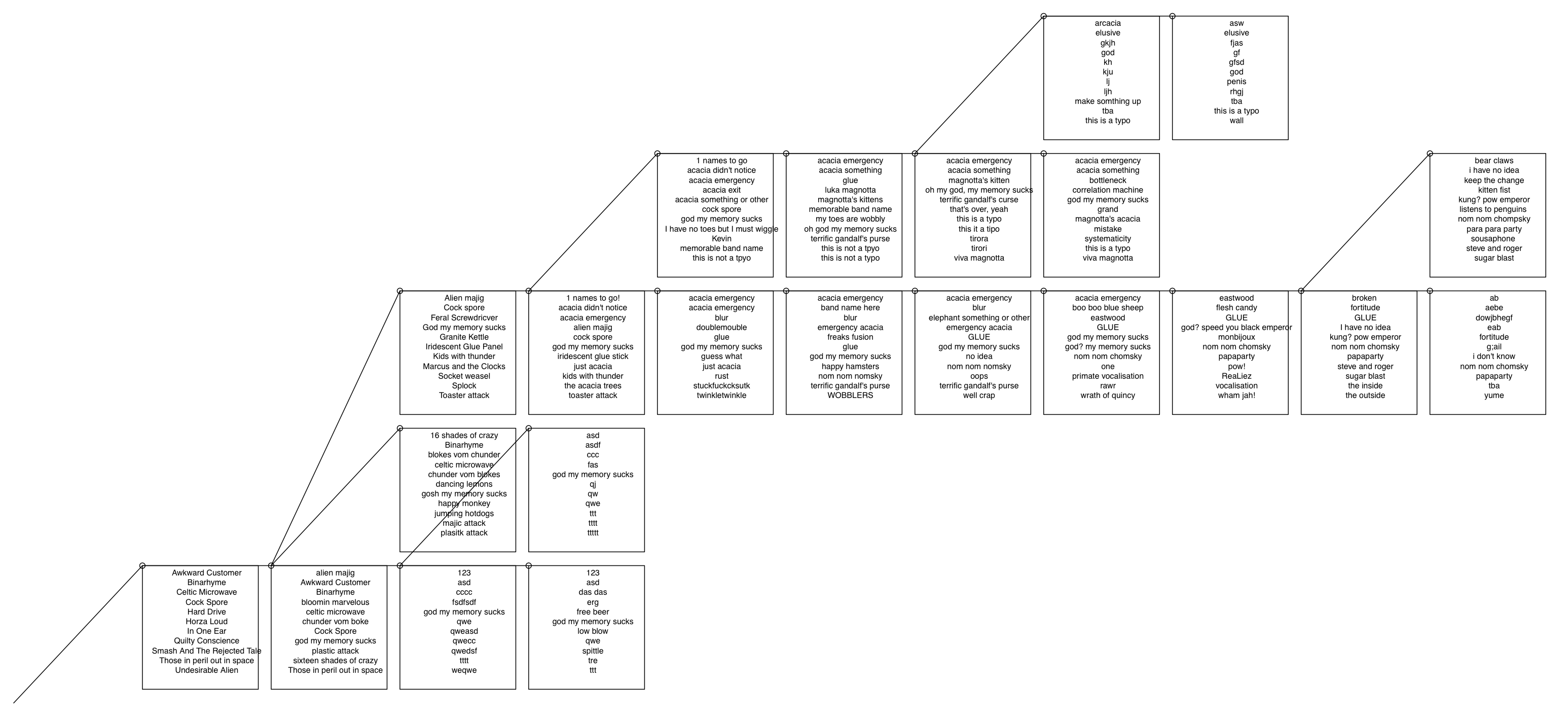 None of the original words make it to the end of the chain. The ends of the chains are fairly deteriorated, as you might expect. Since the program forces participants to enter unique names, then there all strings are different, but they've regressed to repeated characters or characters that are close to each other on the keyboard.
Obviously, there are some strong prior biases – Names that relate to the task ('I don't know", "my memory sucks") and the context of the experiment (Replicated typo, evolutionary linguistics, the acacia tree in-joke etc.). But the real striking thing is the short lifespan of names – people invent a lot of names. This is probably due to the very tight bottleneck: There was only 20 seconds to memorise 10 names.
There are some nice instances of mutation such as 'nomsky' -> 'chomsky' and 'Terrific Gandalf's Purse' -> 'Terrific Gandalf's Curse'.  There's even a bit of recombination:  In another chain, 'Space Monster' and 'Shape Grenade' merge to become 'Shape Monster'.  There's also something that looks like selection for salience:  'Irridescent Glue Stick' becomes just 'Glue', then 'GLUE'.  It also gets gradually closer to the top of the list (people remembered it earlier).  There are a few instances of borrowing:  The 'Magnotta' variations are introduced by one player in two chains.  I particularly liked the evolution of "Power Hungry Tokyo Takedown" -> "Super Power Tokyo Takedown" -> "Super Power Tokyo Beatdown".
Below you can see the average similarity of strings within a generation over time (left) and the largest common substring within a generation over time.  None of these indicate much of a change, apart from at the very end for largest common sub-string.
However, the average length of band names tends to decrease.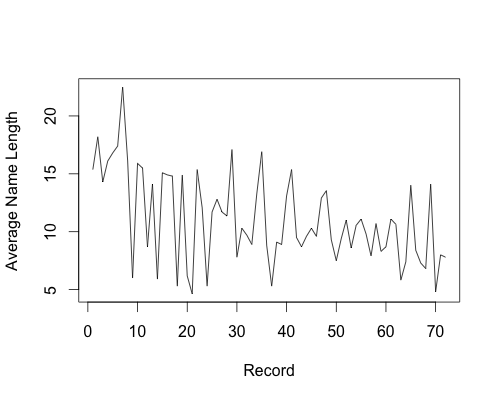 The best band name
In order to judge which was the best band name, the best I could do was look at the frequency of variants.  I wanted to count variations of the same idea together, so the names were grouped automatically based on Levenshtein distance and the longest common sub-string.
Of course, this isn't entirely fair because of some chains split more, giving their names more of a chance to be copied.  In other words, it confounds names that were passed culturally, and names that have a strong prior bias and arose independently.  For example, a band name of the 'Something X' type evolved independently several times.  This is, in fact, Galton's problem, and has been discussed recently by Levinson & Gray (2012).  The evolution of cultural traits is difficult because there are general patterns in the languages of the world, but it's very hard to decide whether they have arisen because of the cognitive biases of humans, or are the product of being passed on by cultural transmission.
The top 15 most frequent nouns and verbs were: memory 29, acacia 24, go 22, something 20, all 19, quilt 18, sucks 17, protons 17, god 17, up 16, cloaca 16, neutrons 15, remember 14, nom 14, know 14
And finally, here's the eleven (to commemorate Spinal Tap) most frequent band name variants that are not obviously cop-outs:
Chessclub
Cloaca
Neutrons v Protons
The Mathemagicians
Apeway
You me and alexander
Acacia Emergency
The Iterators
The F*ck Yeahs
Pocket Horse
Beeswing
I am not calling my band Chessclub, besides I found two bands and a record label called Chess Club.  Astoundingly Cloaca is also taken, even though it means fish anus.  Therefore, I declare the winner 'Neutrons v Protons'!
However, some of the others are possibilities.  I have to say, though, there was an awful lot of creativity, and honorable mentions go to Nameocolypse, Overwhelming Larger Animals, Leaked Memory, Owl Man, There will be Penguins, Calm a Lama Down and Sean's Lusty Hips.
And here are all the names, sorted by their frequency of appearance in the experiment.  The counts include mutations of the original.
Chessclub 21
chess club
chesscluc
chessclub
chesscl8b
Cloaca 18
neutrons v protons 18
neutrons vs protons
neutron vs protons
neutrons and protons
neutron vs proton
neutrons v protons
protons and neutrons
protons v neutrons
god my memory sucks 17
god my memory sucks
oh my god, my memory sucks
god? my memory sucks
gosh my memory sucks
my memory sucks
oh god my memory sucks
ijustmadethisup/ 14
imadethisup/
imadethisup
ijustmadethisup
ijustmadethisoneup
ijustmadethisup/
The mathemagicians 14
mathemagician
the mathmagicians
mathmagicians
the mathemagicians
mathemagicians
1 to go 14
i don't know 13
apeway 13
The Helpfuls 13
hello3
the helpfuls
hello6
hello4
hello5
hello2
hello
G 12
… 12
you me and alexander 10
you me and alexander
you me and alexandrovna
you and me and alexander
acacia emergency 10
this is not a tpyo 9
this is not a typo
this is a typo
this is not a tpyo
this it a tipo
just making things up 9
i'm just making this up
just making things up
just making this up
The Iterators 9
iterators
iterate
iterative
the iterators
iterated
THe F*ck Yeahs 9
the fuck yeahs
fu*k yeah
the f*ck yeahs
f*uck yea
f*uck yeah
Can't Remember 9
really cant remember
can't remember
i can't remember
i can't remeber
cant remember
pocket horse 8
pocket horse
pocket horses
nough 8
beeswing 8
beeswings
beewings
beeswing
Twice Cooked 8
A 8
owl club 7
nom nom nomsky 7
nom nom chompsky
nom nom chomsky
nom nom nomsky
locker8 7
glue 7
1 names to go! 7
1 names to go!
1 name to go
2 names to go!
1 names to go
shingle finger 6
marble fingers
jingle bingo
shingle finger
single finger
jingle finger
The Tansylvannians 6
the trasnylvanians
the transylvanians
transylvanians
the tansylvannians
the transylvannians
REM 6
Prefecture 6
Plan 8 6
F 6
Dirigible Geeks 6
dirigible penguins
digable penguins
dirigible geeks
Black Sabbath 6
… 6
ygwy 5
thats all now 5
thats all now
that's all now
sung sweet 5
sf 5
sean help I'm trapped in a loop 5
sean help i'm trapped in a loop
i'm trapped in a loop
help sean i'm trapped in a loop
remember 5
r 5
not sure 5
hokey toke 5
honkey tonkey
wonkey tonkey¨
hokey toke
hokey tokey
guess 5
guess3
guess2
guess
*guess
ff 5
dizzy wizzy 5
dizzy wizzy
fuzzy wuzzy
wizzy dizzy
asd 5
acacia something or other 5
acacia something or other
acacia something
aa 5
Lunar barbie 5
Just named 5
Hammerfisters 5
the hammerfisters
hammerfisters
E 5
ywy 4
tttt 4
the somethings 4
the lawnmowers 4
the diesel effect 4
terrific gandalf's purse 4
terrific gandalf's curse
terrific gandalf's purse
tba 4
qwe 4
quilt guilt 4
not remembered 4
not remembered
not remembered again
mao money mao problems 4
liza minelli 4
lamb and mutton 4
l 4
k 4
just guessing 4
j 4
i forgot 4
help 4
hell's day 4
haberdasher 4
god 4
fs 4
applepie 4
all the others were crap 4
all the others were crap
the others were crap
Stevenage 4
Something About Barbie 4
something about al
something about all
something about barbie
something about ai
Killed Whizz 4
killed whizz
skilled whizz
Just read the instructions 4
Fresh to the Scene 4
fresh to the scene
new to the scene
Cock Spore 4
— 4
wut 3
werwe 3
we cannot get out 3
i can't get out
we cannot get out
unemployed fungus 3
the yoo heas 3
the inverts 3
that's all folks 3
that's all folks
that's all folks!
systematicity 3
systematicity
systemacity
ss 3
sorry 3
shrinking tiger 3
ripple of the honeyflea 3
ripple of the hockey flea
ripple of the honeyflea
ripple of the honey flea
qweqweqw 3
qweqwewqeqw
qweqweqweqweqweq
qweqweqw
policepolitique 3
plastic attack 3
majic attack
plastic attack
plasitk attack
perverted 3
papaparty 3
oh I get it now 3
not sure again 3
not my bedtime 3
owl bedtime
not my bedtime
mistake 3
make something up 3
make something up
make somthing up
magnotta's kittens 3
magnotta's kittens
magnotta's kitten
m 3
luka magnotta 3
luka magnotta
viva magnotta
koveted 3
jungle fungle 3
jungle funfle
jungle fungle
i just made this up 3
i just made this up
i just made this up\
hehe 3
grand 3
godspee 3
blur 3
all the rest 3
alien majig 3
Too simplified 3
The Owl Man 3
The Iterated learners 3
the iterated learners
iterated learning
Squashdasher 3
Something replicate 3
something replicate
something leprekon
Sinking Owl 3
the winking widows
sinking owl
sinking owls
Sevenoaks 3
Safety calling 3
Power Hungry Tokyo Takedown 3
super power tokyo takedown
super power tokyo beatdown
power hungry tokyo takedown
Old School Divine 3
old school jerky
old school morning
old school divine
Masters of Darkness 3
the raiders of darkness
the prince of darkness
masters of darkness
Leaked Memory 3
Green Day 3
Elvis 3
Downshift an elephant 3
downshift an elephant
downshift and elephant
Contra Quilt 3
C 3
Band 3
B 3
Ape Skyway 3
111 3
– 3
whocaresaboutthenameanyway 2
weqwe 2
ts 2
tirori 2
the trilinguals 2
the itirators 2
the fuckyeahs 2
the fistybembers 2
fistymembers
the fistybembers
the acacia trees 2
the acacia trees
acacia exit
talented whore 2
talented whore
talented noise
sugar blast 2
steve and roger 2
sixteen shades of crazy 2
16 shades of crazy
sixteen shades of crazy
siht 2
see sharp 2
science club 2
res 2
rebard 2
qwewqeqweqweq 2
qwewqeqwewqewqeqwe
qwewqeqweqweq
quilt life 2
quilt cock 2
qhimp quilt 2
primordial grooves 2
primordial groove
primordial grooves
penis 2
paperclip 2
never let go 2
monkey apes 2
memorable band name 2
ljh 2
let me out 2
kung? pow emperor 2
just acacia 2
jumpman 2
hypnotic sun 2
housecoat 2
fortitude 2
fas 2
evolution 2
emergency acacia 2
elusive 2
eastwood 2
eab 2
don't 2
dfgdfg 2
dfg 2
damn my working memory 2
damn my general memory 2
cunning linguist 2
the cunning linguists
cunning linguist
crass 2
correlation machine 2
correlation machine
replication machine
cinnamon cake 2
ciarce 2
chunder vom boke 2
chunder vom blokes
chunder vom boke
celtic microwave 2
cccc 2
buttpluh 2
beatles 2
barry and the baratones 2
barry and the baratoners
barry and the baratones
anything goes 2
acacia didn't notice 2
Wrong King Kong 2
Wizardry 2
the wizard of al
wizardry
Whiggidy whiggidy wack 2
whiggidy whiggidy wack
whiggity whiggity whack
Western Super Mayor 2
Wallawalla 2
Use It! 2
Twa Dogs 2
Toe Nail Fungus 2
toenail fungus
toe nail fungus
Toaster attack 2
Those in peril out in space 2
The Truth of All Lies 2
The Oneders 2
The Brainmelts 2
brainmelts
the brainmelts
Straight 8 2
Stick Insect 2
Split life 2
Shoddy Worksmanship 2
shoddy worksmanship
shoddy workmanship
Scorpions 2
Sausages and Clash 2
sausages and clash
sausage and smash
Safety in the Bathroom 2
Rolling bones 2
Replicated This 2
the replicated typos
replicated this
RECALL 2
Overwhelming Larger Animals 2
overwhelming larger animals
overwhelmingly larger animals
Nopes 2
Neck Pain 2
Natural Selection 2
Nameocolypse 2
nameocolypse
nameocalypse
Music 2
Mothra 2
Modern Contraption 2
modern contraption
modern contraception
Mnemonic Harmonics 2
mnemonic harmonics
nemnonic harmonics
Memory joggers 2
memory jogger
memory joggers
Matt and the Linguists 2
Made of Metal 2
Left Wing People 2
King Elizabeth 2
Kids with thunder 2
Just read the manual 2
read the manuel
just read the manual
Iridescent Glue Panel 2
iridescent glue stick
iridescent glue panel
Interative Banana 2
iterative banana
interative banana
Impending Fuzz 2
impendence fuzz
impending fuzz
I have no idea 2
I can't believe my memory is this poor 2
Hostile Takeovers 2
Honkey Puck 2
Gypsy squid 2
Godsend prick 2
Gin Gan Goolie 2
Etched in Bone 2
Elderflower Cordial 2
Duck Search 2
Drafty Panties 2
drafty panties
drafty pants
Donkey Rectum 2
Cut the Chord 2
cut the chords
cut the chord
Condensed Curve 2
Clockwork Tiger 2
clockwork tiger
clockwork orange tiger
Captain flash 2
Calm a Lama Down 2
Call Me AL 2
Boot Quiz 2
Bloodly Rifle 2
bloody rifle
bloodly rifle
Binarhyme 2
Astroturf 2
Amnesia 2
Ambrosia 2
Adjective nouns 2
Absent Fetish 2
? 2
3, 2, 1 Contact! 2
3, 2, 1, contact
3, 2, 1 contact!
123 2
10 is a lot! 2
yume 1
ym 1
wrath of quincy 1
wqe 1
whizz buzz 1
white powder 1
what the heck 1
what have you 1
wham jah! 1
well crap 1
way fighting upwards 1
waterfront express 1
wall 1
walkingclogs 1
vocalisation 1
viva viva 1
up 1
unique tampon angel 1
uglymods 1
typo 1
twinkletwinkle 1
ttttt 1
tre 1
they're out to get us 1
they are coming 1
there's no way out 1
the ting tongs 1
the penguins 1
the outside 1
the monkey in the room 1
the iritations 1
the inside 1
the fuckfisters 1
the flaming midgets 1
the earwax conundrum 1
the blah adventurers 1
the 1
that's unsanitary 1
that's over, yeah 1
that's 1
tampon angels 1
swerv 1
supreme peasants 1
supreme archipelago 1
superhappyfuntimes 1
super junkie 1
stuckfuckcksutk 1
steps and ships 1
spittle 1
space 1
sousaphone 1
sorbet a gogo 1
something with Al 1
someone's ballsack 1
silent owl 1
si 1
short term memo 1
shape monster 1
sean's lusty hips 1
seam medicine 1
sdrawkcab 1
scrubscars 1
saggy briches 1
sadfs 1
sad 1
rust 1
rulygods 1
rock and rye 1
roadrage 1
rhgj 1
recall this 1
rawr 1
qwedsf 1
qwecc 1
qweasd 1
quimp gimp 1
quilt pastilles 1
quilt investment 1
quilt guilt 1
quickly my lord 1
qj 1
q 1
puter 1
primate vocalisation 1
pride 1
pow! 1
plastic stroke elastic 1
plain clothes detective 1
para para party 1
owlery 1
owl rage 1
orange revolution 1
oops 1
one of these 1
notable absence 1
no man knows us 1
no idea 1
neutrons and protons 1
name 1
my toes are wobbly 1
more info 1
mondays 1
monbijoux 1
meh 1
magnotta's acacia 1
low blow 1
long titles are harder to remember 1
loads of quilts 1
listens to penguins 1
listall 1
let me 1
let it go 1
lazyfrogs 1
lasttime 1
kora 1
know 1
kju 1
kitten fist 1
kicking the groove 1
kh 1
keep the change 1
just 4 to go 1
jumping hotdogs 1
journey 1
illiterate something 1
i 1
how do I get this to stop 1
hhh 1
hello hats 1
heliosphere 1
happy monkey 1
happy hamsters 1
guess what 1
groovy digger 1
grave of the firefly 1
got this 1
gosh 1
golden leprekon 1
golden elf 1
god? speed you black emperor 1
gkjh 1
gfsd 1
gfdgdfg 1
gf 1
gellato! 1
gaddawakka 1
gaddablakadda 1
gabbadakka 1
g;ail 1
fungal leprechauns 1
fucking hell 1
fsdfsdf 1
free beer 1
freaks fusion 1
floppy rock 1
flesh candy 1
fishingrods 1
fg 1
face 1
erstwhile 1
erryday 1
erg 1
eman 1
elusive lingueme 1
elephant something or other 1
dowjbhegf 1
doublemouble 1
dirty lab 1
delleps 1
david crystal's ballsack 1
dashaway (?) 1
das das 1
dang meringue 1
dancing lemons 1
daisydogs 1
cross the streams 1
clueless rage 1
clint and the clinton 1
chumba wumba 1
charmed 1
caut!on 1
car photo 1
can't 1
campboot 1
calendar 1
by Galaxy! 1
broken 1
brick wall 1
bottleneck 1
boo boo blue sheep 1
blue hats 1
bloomin marvelous 1
bloodysods 1
blokes vom chunder 1
beware 1
bear claws 1
band name here 1
balloon why not 1
asw 1
ashole 1
arcacia 1
applesauce 1
angel tampon 1
and one more 1
anal cunt 1
alas! 1
aebe 1
Zyphox Twin 1
Zing Bow 1
Zina marina 1
Zesty Pillage 1
ZBoot 1
You, me and Vladimir Alexandrov 1
You naughty monsters 1
Yes, My Goldfish Dances 1
Yao Ming Revival 1
Wrong Caravan 1
Who's playing it anyway 1
What me, no 1
WOBBLERS 1
Vector-Cyborg III 1
Vaginal Fermentation and You 1
Unintended Customer 1
Unhappy Bear 1
Underpaid mushroom 1
Undefined 1
Ultra Relativity 1
Twelve 1
Treble Twenty and the Ting Tongs 1
Topspin Lob 1
Too Many Legs 1
Toke 1
Time travellers 1
Tiddlypom 1
Thereminy ways to make you love me 1
There will be Penguins 1
The replicators 1
The memorizers 1
The long vowels 1
The Unicorn Chaser 1
The Top Notes 1
The Rumples 1
The Pinko Commies 1
The Needful 1
The Iterators The Prince of Darkness 1
The Forget-Me-Nots 1
The Big Bang Band 1
The Beagleators 1
The Beadles 1
Tenuous at best 1
Tentpeg Trollops 1
Swollen Gobnob 1
Sweat Pet 1
Surround 1
Sudo Sandwich 1
Sudden but inevitable betrayal 1
Stoofer's Hoofers 1
Stiff Quilt 1
Stiff Barbie 1
Sticks and Stones 1
Stain 1
Spring 8 1
Splock 1
Sphincter Donkey 1
Sonic Rainboom 1
Something Skydressing 1
Socket weasel 1
Smiling 1
Sleeveless and Startled 1
Shapshifting Masters of Darkness 1
Scratch that itch 1
Santa Fe Wildfire 1
Sack Mage 1
Ripple in the System 1
Ripple Flea 1
Ring ding dang 1
Refracted Larynx 1
ReaLiez 1
Pseudonimous Manticore 1
Proven corridor 1
Percy Mash and the Intent 1
Percy Dingbat 1
Peer Reviewed 1
Oxygen 1
Organised Chaos 1
Open Sesame 1
Nuns on Fire 1
No one out-cakes Al 1
Nnn 1
New sweden 1
Native of Python 1
Nail Biters 1
Mouldy Circuit 1
MorningSaint 1
Mighty Eunuch 1
Mickey's Unfortunate Surprise 1
Mickey says go 1
Merangue 1
Memory Drain 1
Memetic Mutation 1
Matt and the Queefers 1
Marcus and the Clocks 1
Lumpkin 1
Longevity 1
Learning 1
Lava Bread and the Baskets 1
LOOK OUT! 1
Koality Moosic 1
Kirby's kings 1
Kevin 1
Karma Chameleon 1
Just replicate that 1
Just a guess 1
Jizz Bucket 1
Isle of dye 1
Iron 'n' Board 1
Insect Glow 1
In One Ear 1
IMPOSSIBRU! 1
I've got places to go! 1
I suck at this 1
I have no toes but I must wiggle 1
Hypnotic zeppelin 1
Hence the Fortress 1
Hell Is Other People 1
Green she said 1
Granite Kettle 1
Gordon and the Physists 1
Fundamental Metal 1
Fuck Yeah Dinosaur! 1
Frenzy Fancy 1
Flunk Punk 1
Fluid mosaic 1
FishFuzz 1
First or Last 1
First cold 1
Fire Farmer 1
Feral Screwdricver 1
Fat leprekon 1
Fantastic Mr Fox 1
Excuse me, no. 1
Exclamation! 1
Exchange 1
Evolved chaos 1
Elder Workshop 1
Dusty Glow 1
Doctor McAwesomesauce 1
Dingeling 1
Devoiced Schwa 1
Despondent Moose 1
Deliver Vagabond 1
Death and Gravity 1
Curl up and go away 1
Cubic Zirconium Jubilee 1
Crackers 1
Colourless Green Ideas 1
Codename: Kladdkaka 1
Classical Jerky 1
Cardboard owls 1
Butt Crunch 1
Bumpkin Bastards 1
Bumblebee Warfare 1
Booths 1
Boot Sector 1
Bone Crackin' 1
Big Bad Boot Men 1
Best bones 1
Barroso 1
Awkward Customer 1
Arkady 1
Antisocial Penguins 1
Antiquated Python 1
Angry Gorilla 1
All My Singularities 1
Alderbrand 1
Ace of Bayes 1
56 times 1
*also guess 1