In 2016, Casey Hattrey combined literary genres that had long been kept far apart from each other: science fiction, academic funding applications and cultural evolution theory. Space Funding Crisis I: Persister was a story that tried to "put the fun in academic funding application and the itch in hyper-niche". It was criticised as "unrealistic and too centered on academics to be believable" and "not a very good book". Dan Dediu's advice was "better not even start reading it," and Fiona Jordan's review was literally a four-letter word. Still, that hasn't stopped Hattrey from writing the sequel that the title of the first book tried to warn us about.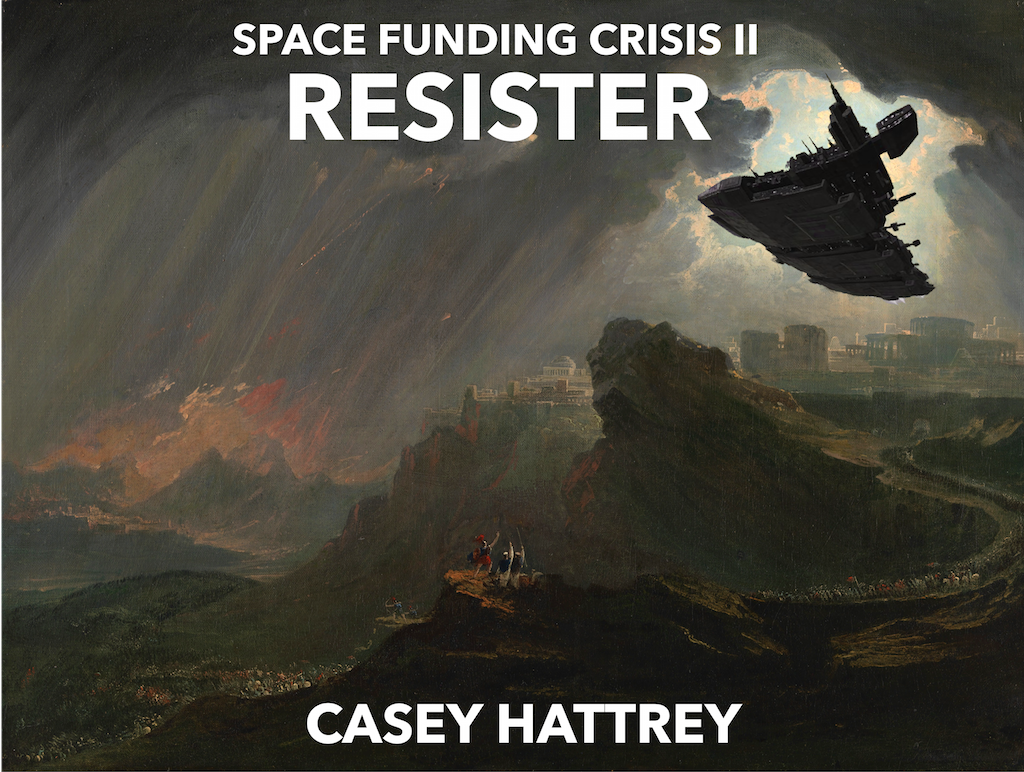 Space Funding Crisis II: Resister continues to follow the career of space linguist Karen Arianne. Just when she thought she'd gotten out of academia, the shadowy Central Academic Funding Council Administration pulls her back in for one more job. Or at least a part-time post-doc. Her mission: solve the mystery of the great convergence. Over thousands of years of space-faring, human linguistic diversity has exploded, but suddenly people have started speaking the same language. What could have caused this sinister twist? Who are the Panini Press? And what exactly is research insurance? Arianne's latest adventure sees her struggle against 'splainer bots, the conference mafia and her own inability to think about the future.
To say that this was the "difficult second book" would give too much credit to the first.  Hattrey seems to have learned nothing about writing or science since the last time they ventured into the weird world of self-published online novels. The characters have no distinct voice, the plot doesn't make much sense and there are eye-watering levels of exposition.  In the appendix there's even an R script which supports some of the book's predictions, and even that is badly composed.  Even some of the apparently over-the-top futuristic ideas like insurance for research hypotheses are a bit behind existing ideas like using prediction markets for assessing replicability.
If there is a theme between the poorly formatted pages, then it's emergence: complex patterns arising from simple rules. Arianne has a kind of spiritual belief in just reacting, Breitenberg-like, to the here-and-now rather than planning ahead. Apparently Hattrey intends this to translate into a criticism of the pressures of early-career academic life.  But this never really materialises out of the bland dialogue and insistence on putting lasers everywhere.
Still, where else are you going to find a book that makes fun of the slow science movement, generative linguistics and theories linking the emergence of tone systems to the climate?
Resister is available for free, including in various formats, including for kindle, iPad and nook. The prequel, Persister is also available (epub, kindle, iPad, nook).