Children are better than adults at learning second languages.  Children find it easy, can do it implicitly and achieve a native-like competence.  However, as we get older we find learning a new language difficult, we need explicit teaching and find some aspects difficult to master such as grammar and pronunciation.  What is the reason for this?  The foremost theories suggest it is linked to memory constraints (Paradis, 2004; Ullman, 2005).  Children find it easy to incorporate knowledge into procedural memory – memory that encodes procedures and motor skills and has been linked to grammar, morphology and pronunciation.  Procedural memory atrophies in adults, but they develop good declarative memory – memory that stores facts and is used for retrieving lexical items.  This seems to explain the difference between adults and children in second language learning.  However, this is a proximate explanation.  What about the ultimate explanation about why languages are like this?
I have previously blogged about a theory by Hagen (2008) which sees this distinction in memory as adaptive to small, isolated populations in early humans.  I tried to modify the theory by claiming that the adaptation was to different social tasks for children and adults (MacWhinney, 2001), and even went to the trouble of building a stupidly complex model of it all.  However, I recently realised that this was the wrong approach.
Language changes to fit the cognitive niche of its learners (Christiansen & Chater, 2008), so the question should really be why are some aspects of language more easily learnable with procedural memory?  That is, why has language adapted to procedural memory users?  The simple answer is that the learners of language are usually children – if they cannot learn aspects of the language, those aspects will not be passed on.  This creates a selective pressure on language to adapt to children.  And since children are still in the process of developing declarative memory, aspects which are easily encoded by procedural memory are selected for.
So, here's the hypothesis:  Children favour procedural memory aspects such as morphology while adults would favour declarative memory aspects such as lexical forms of distinction.  For example, a child may prefer morphological marking of the future tense (in Spanish hablo: I speak, hablaré: I will speak ) while an adult prefers lexical marking (as in English I speak, I will speak).  This creates a prediction – that a language with many adult learners will tend to use lexical means of distinction rather than morphological.
There is some support for this.  Lupyan & Dale (2010) conducted a large-scale statistical analysis of the world atlas of languages (see posts here and here).  They found that languages with many speakers spread over a large area and with many adult second-language learners tended to be less morphologically complex than languages spoken by small, contained, isolated communities.  Below is a graph from Lupyan & Dale (2010) which shows that whether a language marks the future tense morphologically can be predicted by the language community's population (Wintz also shows that there's a link between population size and phoneme inventory size).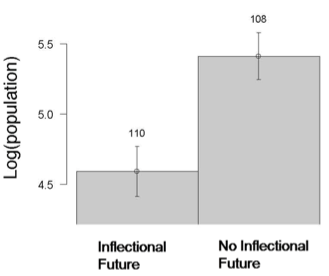 More generally, a population's size is correlated with an index of morphological complexity.  Below, we see that languages like English which is spoken by many people across the globe and has many second language speakers (it may now have more second language speakers than native speakers) scores very low on the morphological complexity scale.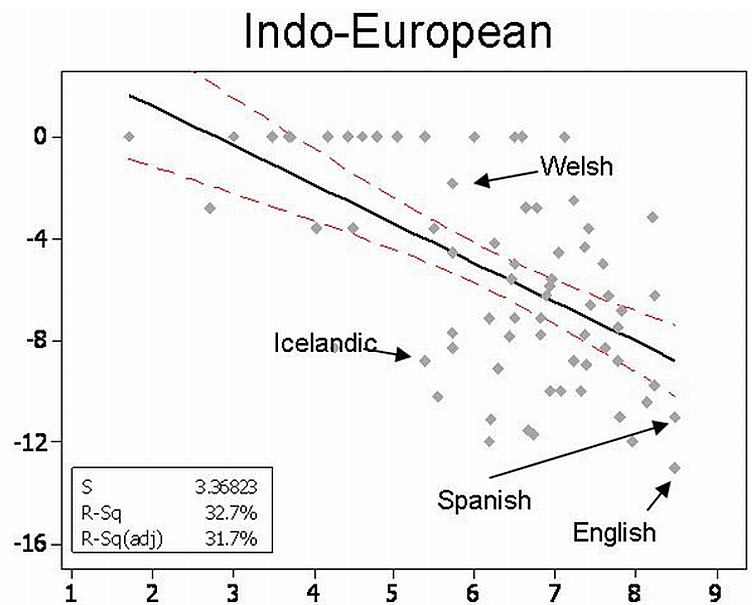 The x-axis is log population, the y-axis is a morphological complexity score (the number of features for which each language relies on lexical versus morphological coding subtracted from 1).
This agrees with my prediction.  Lupyan and Dale do state that
"the most frequent typologies … correspond to those known to be more easily learned by children whereas typologies common to high-population (i.e., exoteric) languages are those that are best learned by adults."
However, they don't explicitly invoke the procedural/declarative memory model.  In doing so, we can make further predictions:  Any demographic change that results in an imbalance between procedural and declarative memory abilities will affect the selection pressure on language.  For example, because alcohol damages procedural but not declarative memory, there may be differences in the language of cultures that traditionally drink beer to those that drink tea (suggested by my collegue Eric Johnstone).
Also, females are better than males at tasks requiring declarative memory (Hartstone & Ullman, 2005).  So, we'd expect a population with more females to have less morphological complexity.  Using the World Atlas of Language Structures, and sex-ratio data from Wikipedia, I tested this and to my surprise found a significant negative correlation between sex ratio and the inflectional synthesis of the verb (134 languages, r = -0.17, p < 0.05):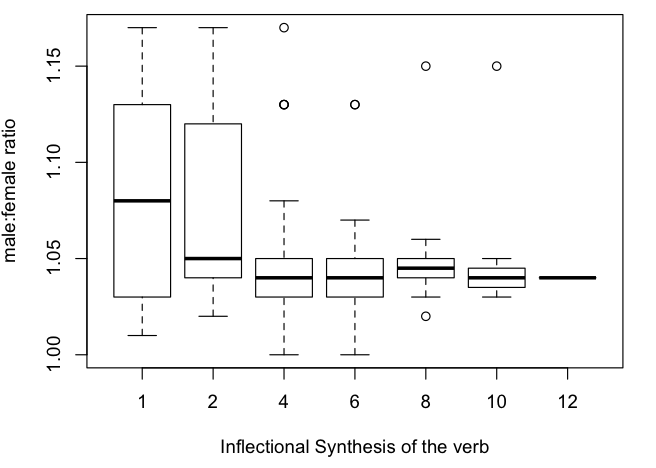 Other research shows that daytime naps improve procedural memory (Backhaus & Junghanns, 2006).  So, cultures which take siestas may have adults with better procedural memory, shielding the language from a lexical selection bias.  In fact, countries that take siesta (as listed on Wikipedia) have languages with less morphological complexity than countries that do not take siesta (134 languages, t = 3.47, p =0.001):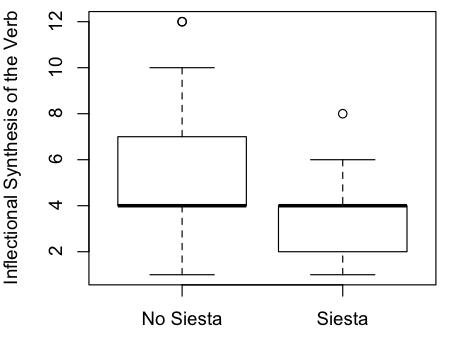 Astute readers will note that these are in fact the opposite of what I predicted. Backhaus and Junghanns also find that females regularise more than males, which is not what they initially expected, and I'm still trying to get my head around their explanation.
At any rate, the statistics above should not be taken too seriously (Wikipedia data is highly suspicious and the actual data processing was done on a train from Krakow to Warsaw) and I'm not controlling for many aspects (language phylogenies, latitude, wars etc.).  They do suggest, however, that there may be something worth exploring here.
I conclude with a tentative hypothesis:  Different languages may depend differentially on different brain structures because of functional pressures.  That is, languages may be radically different from each other given the different needs of the population.  In fact, because the function of language is so different in different cultures, a general theory of language may be so abstract that it is just the theory of Evolution.  Biologists come up against this problem too:  the theory of Evolution is pervasive, but a particular adaptation needs to be studied in terms of its context.  How should linguists incorporate this approach?  Taking a nap after lunch seems to be a good starting point.
L. Kirk Hagen (2008). The bilingual brain: Human evolution and second language acquisition Evolutionary Psychology, 6, 43-63
Lupyan G, & Dale R (2010). Language structure is partly determined by social structure. PloS one, 5 (1) PMID: 20098492
Christiansen, M., & Chater, N. (2008). Language as shaped by the brain Behavioral and Brain Sciences, 31 (05) DOI: 10.1017/S0140525X08004998
Hartshorne JK, & Ullman MT (2006). Why girls say 'holded' more than boys. Developmental science, 9 (1), 21-32 PMID: 16445392
BACKHAUS, J., & JUNGHANNS, K. (2006). Daytime naps improve procedural motor memory Sleep Medicine, 7 (6), 508-512 DOI: 10.1016/j.sleep.2006.04.002