Why do you blog about your research?  Why do you read other blogs?  Does blogging improve your employability?  Are there hidden advantages to blogging?
How would you convince an undergraduate to start blogging?
I'm giving a talk during Edinburgh's ominous 'Innovative Learning Week' on how and why to blog about your research (more details here).  One of the key messages I hoped to convey was that blogging helps your research by crowd-sourcing criticism:  If you put something up on the web, someone might help you.
So there I was trying to come up with reasons about why you should blog, when I realised:  I could put the talk online and see if anyone helps.  Insight fail.
So, why do you blog?  Has it helped your career?
So far, my main source of facts about the question above has been Geißler et al. 2011, who survey geoscience bloggers.  They find, in line with the general blogging community, that the majority of bloggers are male, and about half are from the USA.  Graduate students and university faculty make up the largest proportion, with freelancers and industry bloggers coming next.  There are proportionately few undergraduates who blog.
The most stated reasons for writing for a blog are  to share knowledge, to popularise the field, to have fun and to improve writing abilities.
Here's their results for the sources of inspiration and perception of blogging: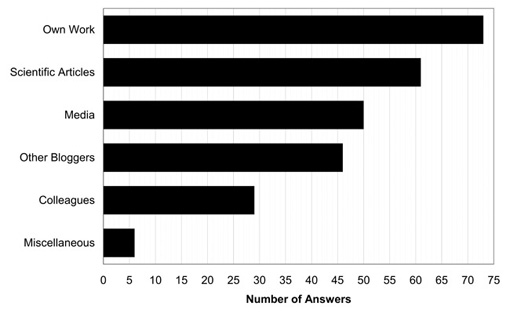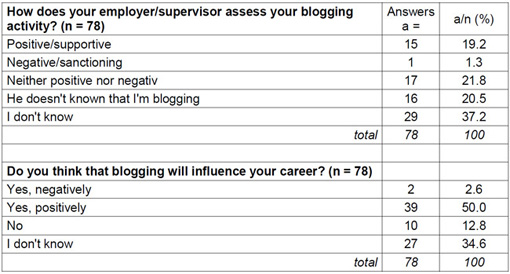 I was trying to find some information on the extent to which your career is helped by blogging.  Andy Hollyhead is doing his PhD on this, but I can't get access to his publications.  There are some great comments on the post Has science blogging affected your career? at the AGU blogosphere.  When I found this one, I stopped looking:
Brian Shiro:
Science blogging has opened doors and set into motion a cascade of events that have completely changed my life and the trajectory of my career for the better. To make a long story short, I have been able to pursue a number of projects and experiences of direct relevance to my ultimate goal of becoming an astronaut thanks to my blog.
But now over to you – how would you convince an undergraduate how to blog?
You can view my current progress on my slides here.
My talk: Blogging about research
23 Feb 2012 11:00 – 12:00
Room 1.17, Dugald Stewart Building, University of Edinburgh.
[gview file="http://blake.ppls.ed.ac.uk/~s0451342/BloggingResearch_forRT2.pdf"]
Lutz Geißler, Robert Huber and Callan Bentley (2011). The state of the Geoblogosphere – geoscience communication in the social web geonetzwerk
Cox, S., & Hollyhead, A. (2009). The Development of Student Blogging in Higher Education CERI 2009