On Thursday I ran an experiment to evolve an app name.  And here's the name that won: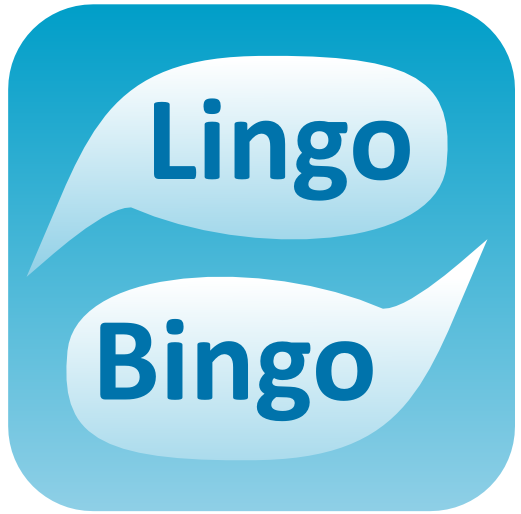 I'm not sure if I could cope with having to say 'Lingo Bingo' for the next two months, but we'll see.
Here's how it worked:
Show the participant 10 app names for 20 seconds
Hide the names and ask the participant to recall them
Pass on what they recall as the stimuli for the next participant to remember
(you can still take part in the experiment here)
We predicted that the most striking, memorable names would be remembered and passed on, while the less memorable ones would be selected out.  That is, the names would evolve to fit the brains of app-users by being repeatedly learned and produced (iterated learning):

54 people took part in the experiment.
Now, there are some complications with the results, as documented in the last attempt to do this.  Basically, if two people start at roughly the same time, then they start separate chains, causing Galton's problem.  However, we'll ignore that here.
There are some other problems, too.  When people couldn't remember any more words, they were asked to make something up.  Some people made variations of existing names e.g. Language Detective -> langua-detecive, lingua-detective.  Others made new names, e.g. "Ling to go".  But many just gave up, resulting in names like "can't remember anymore", "another guess", "…" and "ah fuck_sorry".
Still, there were some names that survived better than others (see below).  And here are the winners:
Lingo Bingo (36 replications)
Idiomatic (16 replications)
LingQuest (15 replications)
Vernacular (14 replications)
Language Detective (14 replications)
These are all names that we came up with as seeds for the chains.  But there were also some strange and wonderful suggestions that deserve a mention:
Sean's super mega language funpendium
Who Wants to Match Two Languages?
Flipping language
Try Lingual
You don't know Basque
Lynn the Goose
But is there evidence of evolution?  Well, to start with, "Lingo Bingo" is was replicated many more times than its closest rival.  Also, the average length of names dropped over time (r = 0.32, p = 0.006), which makes sense – shorter names are easier to remember.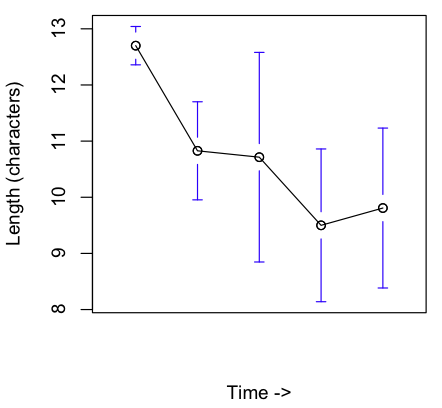 Interestingly, there was also some evidence of systematicity emerging.  There were many cases of words being swapped.  Also, some of the original names had rhymes, like "Lingo Bingo".  The rhymes were replicated in new names, e.g. "Slango Whango", "Babel Fable" and "Language Panguage".
I attempted a measure of 'rhymingness'.  Given a multi-word name, I took the proportional maximum common substring between adjacent words.  There is a weak tendency for this measure to increase over time (r = 0.21, p = 0.0495):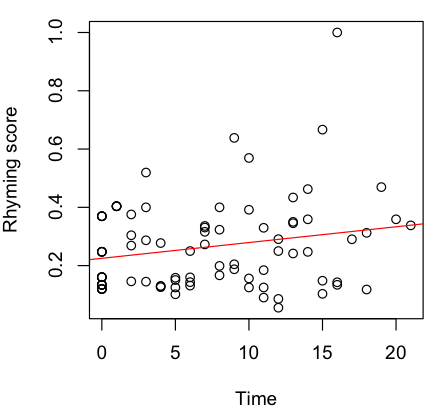 Here's the full list of 335 names, with the number of times they were replicated and their variants (calculated by a mix of levenshtein distance and maximum common substring):
lingo bingo 36
lingo bingo
lingobingo
lingo dingo
lingo bingo
lingobingo
lingo lingo
bingolingo
bingo lingo
idiomatic 16
lingquest 15
ling quest
lingo quest
lingquest
vernacular 14
language detective 14
langua detective
language detective
lingua detective
langua-detecive
lingua-detective
lingual 13
language map 13
language matcher
language mash
language match
language map
babel label 13
language 10
languages
ilanguage
language
language guessing 9
language guessing
language guess
trip of the tongue 8
tip of the tongue
trip of the tongue
slip of the tongue
language game 8
guess4 7
dediction 7
talable 6
dunno 6
a 6
turmoil 5
tip of the language 5
tip of the language
top of the language
tip of the lanuage
 tonguetip 5
thonguetip
thongtip
tongue tip
sorry 5
quest of the tongue 5
twist of the tongue
quest of the tongue
trips of the tongue
language master 5
language master
language matters
language masters
dialectal 5
dialect
dialectic
dialectal
dialectct
to match a language 4
to guess a language 4
to guess a lanugage
to guess a language
patter matter 4
patter matter
patter patter
lingotourist 4
ling tourist
lingotourist
lingtourist
linglang 4
language jukebox 4
langling 4
aaaaaa 4
word winger 3
tongue twister 3
speech teach 3
speech detective 3
q 3
no 3
more 3
mongtime 3
songtime
mongtime
thongtime
lynn the goose 3
lynne the goose
lynn the goose
lingtastic 3
lingberries 3
language quiz 3
language box 3
ideas 3
dialelect 3
you don't know basque 2
you don't know glue
you don't know basque
what i just said 2
what are you saying 2
what are you saying?
what are you saying
try lingual 2
travelling 2
tonguetip 2
tongue trippers 2
to flip a language 2
text tonic 2
synglossia 2
speech quiz 2
sound match 2
slango whango 2
slanging match 2
say a name 2
r 2
questling 2
polyglot game 2
peri lingual 2
p 2
my memory is awful 2
mor 2
mapling 2
lynn the gamer 2
linguino 2
linguastics 2
lingualing 2
lingsleuth 2
lingolicious 2
language set 2
language sleuth
language set
language salad 2
language quest 2
language journey 2
language flip 2
language and things and stuff 2
langame 2
knomen 2
idk 2
i can't remember anymore 2
i can't remember anymore
can't remember anymore
guess it 2
guagelan 2
gnomenclature 2
knomenclature
gnomenclature
glossolalia 2
g 2
dialectric 2
dial a language 2
devolingtion 2
de lingual 2
cunnilingus lingua 2
cunnilingual lingual
cunnilingus lingua
conversant 2
bob 2
babble 2
another guess 2
alice 2
ah fuck 2
aaaa 2
aaa 2
aa 2
🙁 2
wät? 1
wordy 1
wordsleuth 1
wordfix 1
word set 1
word match 1
who wants to match two languages? 1
who cares 1
where in the word? 1
what the talk 1
what 1
waddafuckaretheysaying 1
trip of the tounge 1
tourist something 1
tounguage 1
tongue tree 1
tongue theory 1
tongue questers 1
tongue of slip 1
tongue evolver 1
to tell a name 1
timesong 1
tilk-talk 1
this game sucks 1
that's all i've got 1
talker 1
talk it app 1
super tongue 1
speechmachine 1
speech test 1
speech match 1
sparkle pants 1
soundsstrange 1
sounds like 1
soundbox 1
soundbites 1
sound lottery 1
somethingtalk 1
somename 1
some other random name 1
some name 1
sleuth 1
sggs 1
seijoishi 1
sean's super mega language funpendium 1
sean's something or other 1
sdg 1
say what? 1
same set 1
roop 1
ring wing 1
remloyer 1
reinterpret cheese 1
random name 1
quux 1
quest for ling 1
purple monkey dishwasher 1
pota 1
please don't use that one. 1
phylogeneticmapp 1
pfpfpfpf 1
ota 1
only those four or five 1
o 1
nym ling 1
not suitable for miners 1
not really 1
not a clue 1
no freaking clue 1
nintendo 1
nan 1
na 1
my bad 1
mouth tronics 1
mouth speak 1
mo 1
match-oo pitch-oo 1
match the set 1
match the lingo 1
match the batch 1
match it 1
longtime no song 1
lol 1
lip service 1
lingvolution 1
lingutective 1
lingustica 1
linguit 1
linguistic lunch 1
linguistic journey 1
linguist journey 1
linguiscious 1
linguis 1
linguino 1
linguinary 1
linguapp 1
lingual march 1
lingual donotrememberus 1
lingual distal 1
lingual dedication 1
lingual app 1
lingua tongue 1
lingua rep 1
lingua quest 1
lingua lingual 1
lingua franca 1
lingtime 1
lingomatch 1
lingogame 1
lingobox 1
lingo funnel 1
lingo 1
lingnonym 1
lingmap 1
linglink 1
ling to go 1
ling ling 1
lin-goose 1
lin gualuse 1
letter better 1
letssee 1
lequation 1
lappy 1
languess 1
languapp 1
languagemapp 1
languageapp 1
language wars 1
language survival 1
language suprise 1
language sleuth, trip of the tounge, talable 1
language set 1
language sense 1
language riddle 1
language panguage 1
language mastter 1
language manguage 1
language machine 1
language lunch 1
language group 1
language gorillas 1
language genocide 1
language friends 1
language endurance 1
language beast 1
language app 1
language match 1
langu-do-do 1
langauge 1
lang-guess 1
lang guage 1
k 1
joy of language 1
jabbergenerator 1
j 1
idiota 1
idiosola 1
idiomia 1
idiomaster 1
identiling 1
ida 1
i'm sure this said 9 then 9 again 1
i'm sorry i didn't pay enough attention 1
i suck at this 1
heterophylly 1
hear-recall 1
h 1
guesspeech 1
guessing 1
guess the language 1
guess again 1
guess 43 1
great language app 1
glossoptosis 1
glossodynia 1
glia 1
galau lingual 1
foo 1
flipping language 1
feedback 1
evolection 1
eavesdropping 1
eatr 1
dry buns 1
don't use that one 1
distal lingua 1
disglossia 1
dilelect 1
dilectal 1
dict ap 1
dialectlet 1
dialectirette 1
dialectics 1
dialectelette 1
dialectalect 1
dial a dialect 1
detective linguophile 1
dedicated lingual lingus 1
cunninglingual app 1
crossbabble 1
cq 1
countrecall 1
complete working memory decay 1
coca-cola (nobody's used that before right…) 1
coca cola 1
cizz 1
cb 1
c 1
but that's ok 1
blob 1
blinguistics 1
baz 1
bar 1
bananas 1
babybabel 1
babelz 1
babelicious 1
babel label is terrible, since they don't rhyme 1
babel label doesnt even rhyme 1
babel fable 1
babel box 1
apptacular 1
appppppp 1
acid tongue 1
aargh 1
🙂 1
……… 1
….. 1
… 1