You sometimes hear people complaining about the use of the term "language evolution" when what people really mean is historical linguistics, language change or the cultural evolution of language. So what's the difference?
Some people argue that evolution is a strictly biological phenomenon; how the brain evolved the structures which acquire and create language, and any linguistic change is anything outside of this.
Sometimes this debate gets reduced to the matter of whether there are enough parallels between the cultural evolution of language and biological evolution to justify them both having the "evolution" label. George Walkden recently did a presentation in Manchester on why language change is not language evolution and dedicated quite a large chunk of a presentation to where the analogy between languages and species fall down. It is true that there are a lot of differences between languages and species, and how these things replicate and interact, and of course it is difficult to find them perfectly analogous.
However, focussing on the differences between biological and cultural evolution in language causes one to overlook why a lot of evolutionary linguistics work looks at cultural evolution. Work on cultural evolution is trying to address the same question as studies looking directly at physiology, why is language structured the way it is? Obviously how structure evolved is the main question here, but how much of this was biological, and how much is cultural is still a very open question. And any work which looks at how structure comes about, either through biological or cultural evolution can, in my opinion, legitimately be called evolutionary linguistics.
Additionally, in the absence of direct empirical evidence in language evolution, the indirect evidence that we can gather, either through observing the structure of the world's languages, or by using artificial learning experiments, can help us answer questions about our cognitive abilities.
Furthermore, Kirby (2002) outlined 3 timescales of language evolution on the levels of biological evolution (phylogenetic), cultural evolution (glossogentic) and individual development (ontogentic). All of these timescales interact and influence each other, so it's necessary to consider all of these levels in language evolution research, and to say work on any of these timescales is not language evolution research is not respecting the big picture.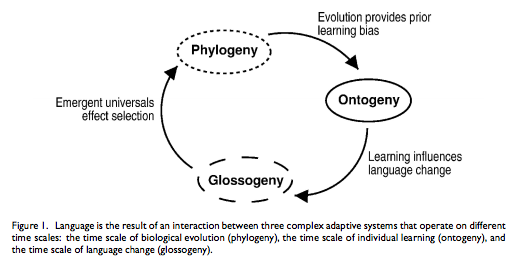 So what's the difference between language change and language evolution? As with almost everything, it's not a black and white issue. I would say though that studies looking at universal trends in language, or cultural evolution experiments in the lab, are very relevant to language evolution. What I'd label historical linguistics, or studies on language change, however, is work which presents data from just one language, as it is hard to make inferences about the evolution of our universal capability for language with just one data point.
Figure 1 from: Kirby, S. (2002b). Natural language from artificial life. Artificial Life, 8(2):185-215.