James Winters was formerly a student at the University of Edinburgh, and graduated with an MSc in the Evolution of Language and Cognition way back in the year of 2009. He's originally from Cardiff, Wales and as such is an obligatory rugby fanatic. James is also characteristic of most Welsh people in another way: he does not actually speak Welsh. He does, however, have a few choice words: sbwriel, cyfrifiadur and Llanfairpwllgwyngyllgogerychwyrndrobwllllantysiliogogogoch. One day he plans on expanding this repertoire of words and phrases into some semblance of the entire language. Until then, his immediate goals are largely focused around writing about language and cultural evolution (and possibly getting onto a PhD). For this reason, he decided to start this blog, which, if you come back to it in the future, will contain a vast body of material related to language, its evolution and anything else in-between.

My going out face.
And in case you were wondering what I really looked like… Here is a self-portrait of my face during the writing of yet another brilliant blog post (how I managed to do this whilst writing is one of the great mysteries of modern Internet art):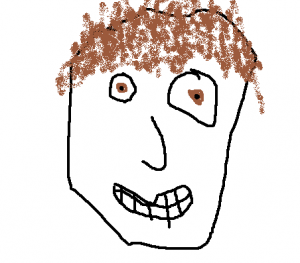 If you have any questions, then please feel free to contact me at: wintzis@gmail.com .